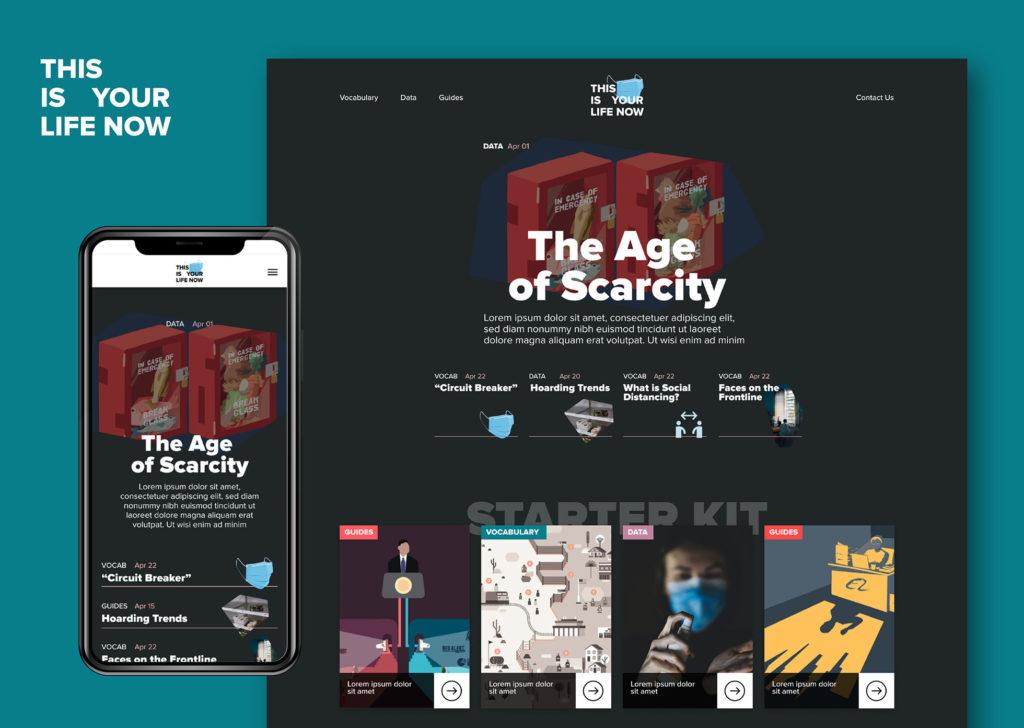 Design Challenge
#1: How might we keep our communities in Singapore safe and healthy during the global COVID-19 pandemic?


Project Description
The pandemic has caused severe disruptions to our sociopolitical and economic status quo, heralding a "new normal" that can be daunting and difficult to navigate. In the scramble to make physical adjustments, youths are especially vulnerable; many lack resources to adjust well mentally. The sudden changes and many present and future unknowns adversely affect mental health, preventing Singapore youths from coping and living well and making informed decisions to help them move forward. "This is Your Life Now" is a digital content portal that will guide Singapore youths (20-35 years old) through these unprecedented times and unpredictable future ahead. Through data-driven analysis, it helps them sense-make and navigate fast-changing world affairs by sharing relevant and practical information.


Criteria #1: Value
71% of youth are consuming more online content, specifically for pandemic updates (Global Web Index). Psychiatrists warn that inability to understand our surroundings to make decisions/take action is mentally crippling long past distressing periods. The current gap is therefore severe: information provided is mainly cursory news, otherwise remaining as inaccessible and non-contextualized research articles/scientific findings. Over the past 12 years, we have developed research, content-analysis, and design capabilities. Through our magazines, we provide aesthetically appealing, contextualised, and data-driven information, helping youths sense-make and navigate our complex world. We are confident that we can close the gap for Singapore youths.


Criteria #2: Inspiration
Weather Reports are a longstanding news feature – Climatology is effectively translated to everyday language to help people make informed decisions and future-plans they'd otherwise be unable to. Drawing inspiration from them, we find that other disciplines require such translation for our local youth, especially during this pandemic.
Vox's explanatory guides are a model in translating science research, financial markets, policy debates etc. to be directly relevant to the lives of young adults. However, these remain U.S.-centric and such content is needed for the Singapore context.


Criteria #3: Impact
Access to timely, reliable information about Singapore's state in the larger context of the world will help youth to better adapt. A world-renowned expert on traumatic stress, Bessel van der Kolk, explains: the brain, wired to ensure our ability to thrive even in distress, needs to create a map of the world to point us where to go before generating energy – discomfort, anxiety, etc – to help us make decisions/take action.
With factual insights directly relevant to their lives, we can prevent Singapore youths from feeling overwhelmed by information, supporting their well-being by helping them face the future with confidence and make purposeful decisions.


Criteria #4: Timeliness
The concept development for both the design and content of the online portal has been completed. The research and development for the articles is currently underway and together with the communication design media, is due for completion in June for launch in July.
Once launched, the articles and communication design media will undergo a monthly refresh.


Criteria #5: Systems Thinking
Ministries that focus on youth are prioritising developing media literacy skills for the young. We are reaching out to coordinate traineeship opportunities for youth to get onboard this project and develop skills in media literacy alongside video editing, design communication, and writing.
Thus, our online portal provides the platform to nurture a healthy ecosystem that not only meets the mental health needs of our youth during the current pandemic but also gives them paid opportunities. This trains youth in skills pertinent for our future of work, life, and learning even as they contribute to give others the resources to adapt and live well in the dynamic, complex times we're in.