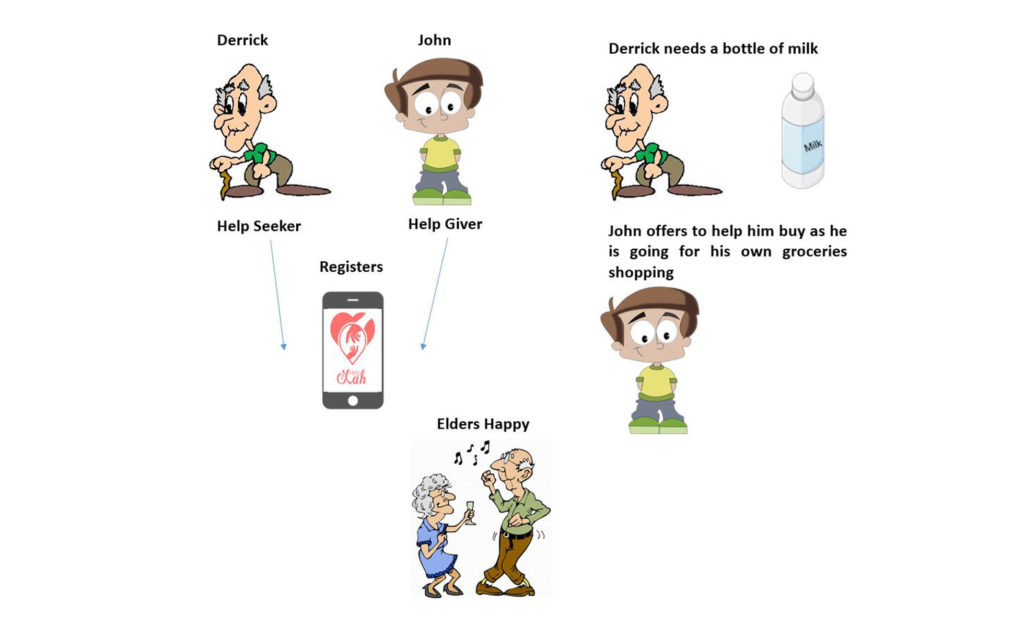 Design Challenge
#2: How might we encourage our community to support one another and look out for those who are socially isolated?


Project Description
Singapore is a country with a population of approx. 1.2M above the age of 55 (https://www.statista.com/statistics/624913/singapore-population-by-age-group/). With some of them staying alone, it would be great for them to have some support whenever needed. Help Lah is a app which can help the elders get support from the youth who are willing to serve the elders during this pandemic time and this could continue for future as well whenever there is a need. Elders who would like help will register in this app as Help Seeker. Youth who are willing to help would register as Help Giver. Once the person is registered as a help giver he would be provided with a basic online training on the different scenarios and would have to clear a basic test to be part of this. The basic online training would.


Criteria #1: Value
With an increasing old age population in Singapore this would be the right time to address the needs of old people who can't be roaming outside because of Covid-19. This app could be as easy as helping out in buying some basic groceries when help giver goes shopping to provide help or first aid and counselling or a moral support when the old people are depressed. With the current situation they can't even visit their children who are not staying with them. It just gives them confidence that someone near them is always there to support them in any scenario.


Criteria #2: Inspiration
There is a family who stays in my HDB, just two old people with their children staying in a different part of Singapore. I see them going out to buy their own essentials and other needs, even though it is just a bottle of milk. With most people ordering online and less slots available, they are left with very less options. Two issues are some of them are not technologically savvy to order online and delivery cost is high as well. Help giver would be able to assist them by teaching them to order online or help them by buying the things when they go for their own shopping.


Criteria #3: Impact
With the high mortality rate of Covid-19 for the people aged above 60, this is the time we give back to them by protecting them and reducing their exposure to this deadly virus by helping them stay indoors. With lots of rumors, false news and panic everywhere, it would be great to have a counselling buddy who stays very nearby or maybe on the floor. This gives a lot of moral support and helps them improve their mental strength, which in turn translates to their overall health.


Criteria #4: Timeliness
The prototype of the app has to be discussed with a survey group or focus groups of both the sides the elderly as well as the youth on their requirements and can be collected within a week. With full-fledged development and UI optimization and testing it can be launched within 4 months. If we get some support from government agencies and town councils we will be able to reach more people in a shorter time.


Criteria #5: Systems Thinking
There are lots of societies for helping the elderly people and giving them moral support, but they can do only by driving all the way to their house. In this Covid-19 situation, when government is restricting being outdoors, this app would be of great help. Once things get back to normal the help givers can be a neighbor who visits these elderly people sometimes based on their convenience just to watch out. After the pandemic situation, most of the support will be done by the different societies already existing and help givers will just be for any assistance.