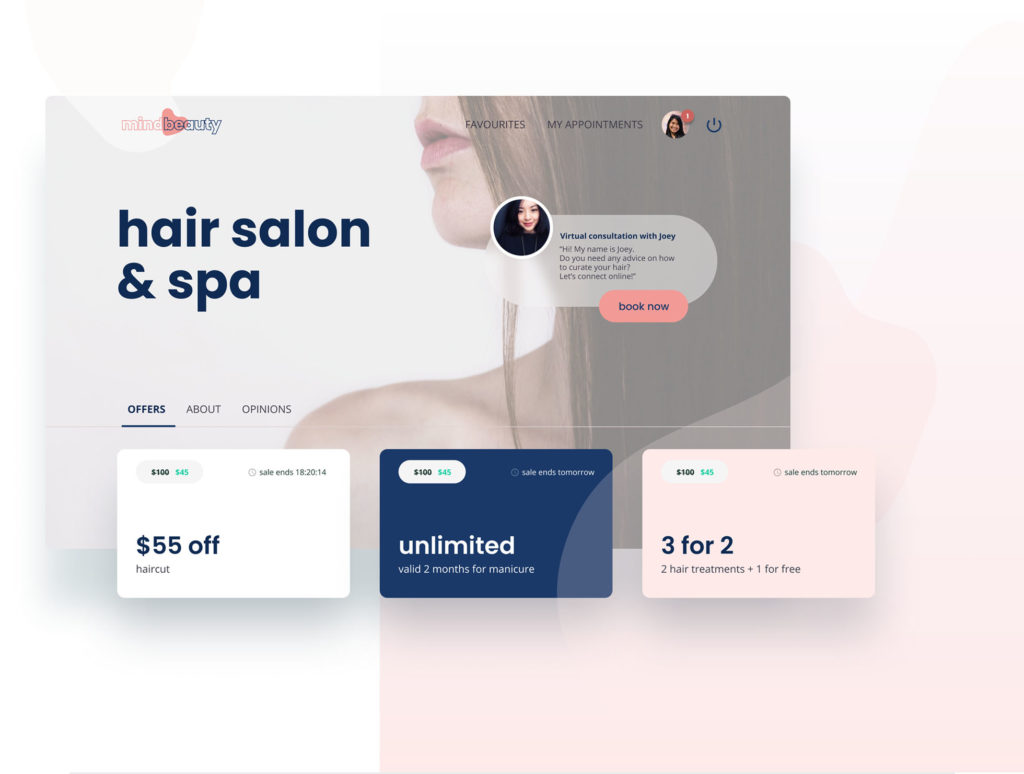 Design Challenge
#3: How might we learn from COVID-19 to reimagine our future for life, work, learning and play?


Project Description
Mindbeauty connects beauty professionals & fitness consultants & psychologists with their clients and brings them mutual benefits in the pandemic crisis.
With the advent of a global economic collapse, companies need to rethink the way they run their business. That may be especially challenging for mentioned professionals, as they rely on physical presence.
We believe that clients can help them stay afloat during the virus situation. By purchasing coupons in advance, that can be redeemed when the social distancing is over, a client contributes to generating revenue by their favorite local salon even during a lockdown. A client can benefit from receiving service at a lower cost, with special discounts. Furthermore, he can also sign up for a subscription with extra perks (e.g., bonus visit).


Criteria #1: Value
With fewer restrictions implemented by governments day by day, social distancing became our new normal.

As a result, it led to many beauty parlors owners & fitness centers to close their shops to slow the spread of the COVID-19 virus.
These closings will have an immense impact on the beauty service industry, as they are perceived to be one group of industry professionals that could be without income for the predictable future.


Criteria #2: Inspiration
Each of us regularly takes care of their body and mental health, using services such as hairdressers, beauticians, fitness training, psychologist consultations, etc.. In the current situation, this is impossible, so we are looking for other solutions on how to take care of yourself. On the other hand, places that have so far addressed our needs are struggling to survive, having problems with financial liquidity.


Criteria #3: Impact
The coronavirus situation especially hits hairstylists, nail artists, and other beauty professionals. As opposed to many different industries, they can't offer their services online. Our solution is aimed at supporting them to endure this difficult time and alleviate the adverse effects of their cash flow.
Virtual appointments
In addition, the platform enables service providers to offer virtual consultation for their clients. Beauty professionals can help people curate their skin, makeup, or hair routines for a consultation fee. At the same time, for a psychologist, it could be an easy way to stay connected with their patients.


Criteria #4: Timeliness
1st phase (3-4 weeks): Research & product design
2nd phase (2 weeks): user testing & incorporate amendments to design if needed
3rd phase (6-8 weeks): development & beta launch MVP
4th phase (6-8 weeks): post MVP – building a mobile app


Criteria #5: Systems Thinking
As a digital platform, we can make use of existing businesses' Facebook fan pages as well as their webpages for creating their business cards in our project. For payments, we can exploit systems that are already working in Sg market (QR Pay, PayNow, PayLah!, etc.)