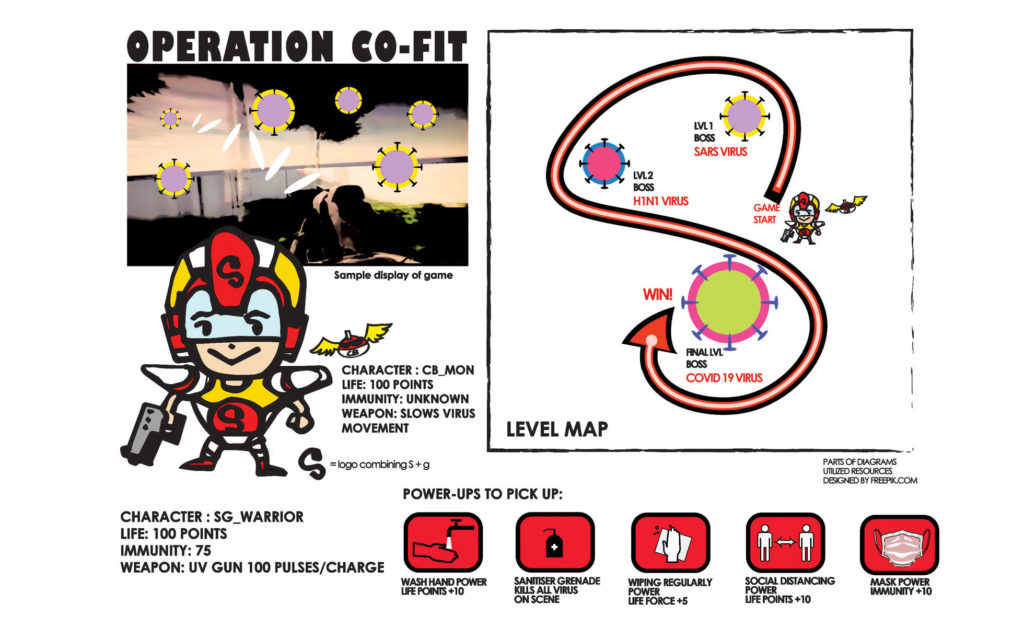 Design Challenge
#1: How might we keep our communities in Singapore safe and healthy during the global COVID-19 pandemic?


Project Description
A simple shooting game that fights the 3 viruses Singapore has encountered before. Through the accumulation of life points, special powers etc during the course of the game, ideas about how to protect oneself from virus infection are being communicated across casually. The game would be played from 1st person perspective that can be either loaded via Google Chrome or a mobile app or in VR/AR mode.


Criteria #1: Value
Covid-19 has struck fear in many of us, either from going through the actual sickness to being quarantined, SHN, LOA, to now living in fear of losing the job, the livelihood and getting CBed. We have accumulated a lot of frustration but there has not been a simple enough way to release the steam until the vaccine is out. This proposed game hopes to be a little entertainment to let off some frustration while reminding us of the characteristics of the 3 viruses that Singapore has encountered, and the ways to protect ourselves from them all through the tool of a simple shooting game.


Criteria #2: Inspiration
A simple enough game that hopefully does not need sophisticated machines to load. However, more local maps could be added in future eg. Toa Payoh , Geylang, or Tokyo, Bangkok etc to cater to needs of residents from different regions.


Criteria #3: Impact
As gamers collect special power-ups, related to the best practises we have in fighting the virus, to prolong the life of the character, they might subconsciously memorize them, especially beneficial for younger kids.


Criteria #4: Timeliness
A simple enough game that I believe with the right company to pair up with would be able to launch within the stipulated time frame.


Criteria #5: Systems Thinking
Government's efforts in educating the masses of the best practises in handling Covid-19 has been humongous with colourful graphical media and TV ads. However, nowadays, young people tend to have shorter attention timespan than before and would rather be educated via interactive media. This little game hopefully can be helpful in sharing the knowledge via a more playful and interactive channel.