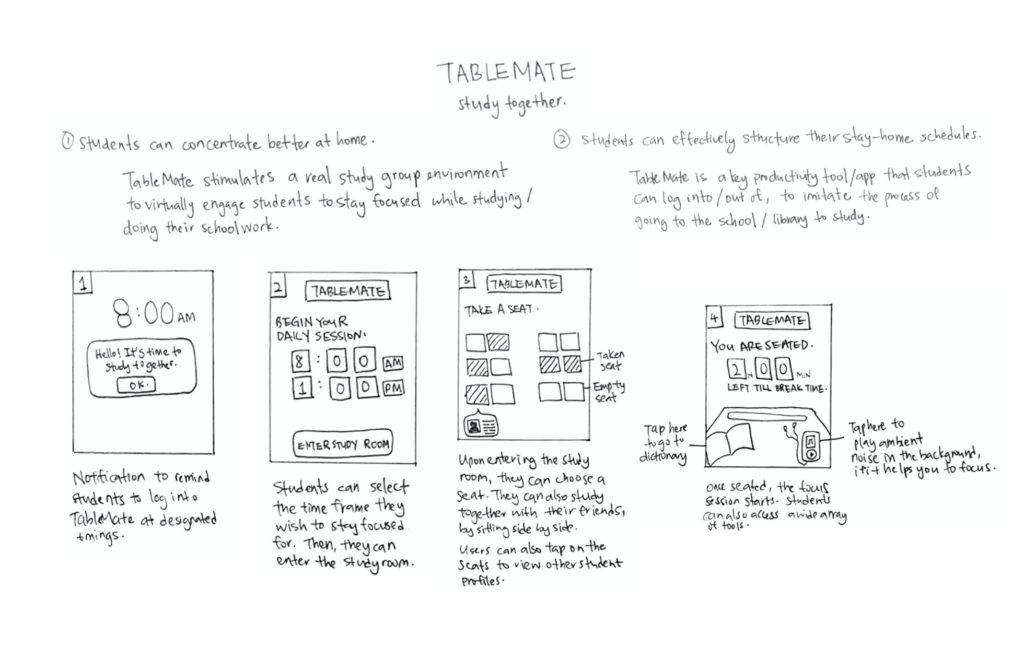 Design Challenge
#3: How might we learn from COVID-19 to reimagine our future for life, work, learning and play?


Project Description
TableMate is a smartphone application for students in Singapore to virtually study with their peers. Taking study groups and peer tutoring digital, the app stimulates a high concentration study environment for students to ask questions, share resources, and simply study together, despite being physically apart.


Criteria #1: Value
TableMate provides a better way for students to concentrate at home, when there is a need for social distancing. During the circuit breaker, many students struggle to study at home due to: (1) environmental distractions, and (2) the lack of motivation and structure in their lifestyle because they no longer set time aside to head to school or the library to study. So, it is important to help them stay productive at home when these institutions are currently closed and may not be quick to resume their services once the circuit breaker ends.


Criteria #2: Inspiration
Staying grounded to communities in these trying times keeps people going – many people hold video calls to exercise and play online games together, and students should be able to feel connected to their peers when they study in isolation too. However, social media and communication apps are way too distracting to maintain a study community, and it renders a need for a unique digital product to help with this problem.


Criteria #3: Impact
While TableMate is envisioned to help students cope better with their productivity at home, it also aims to value-add students in ways real study groups can. Many students agree that the best way to learn things is to teach others. More importantly, they usually face a barrier when personally asking others for assistance with homework. Real study groups tend to ease this problem, as students can openly share resources and teach one another – and TableMate helps to imitate that experience.


Criteria #4: Timeliness
In the near future, it is still uncertain that schools will open with the June holidays carried forward, and institutions like libraries and study rooms in community centres are unlikely to resume services immediately. As such, there is a greater need for students to adapt better and feel comfortable studying at home using a simulated environment. Additionally, it would be feasible to test a minimum viable product out with users digitally, since most are staying home now.


Criteria #5: Systems Thinking
Currently, schools provide home-based learning resources from the syllabus, and there are also several initiatives launched to gather volunteers to tutor students. This provides a great opportunity for TableMate to enter this ecosystem as a platform for students to use these existing resources more effectively – as a simulated environment can help them concentrate, discuss and internalise learnings better. Lastly, they can also benefit by helping others through peer-tutoring.