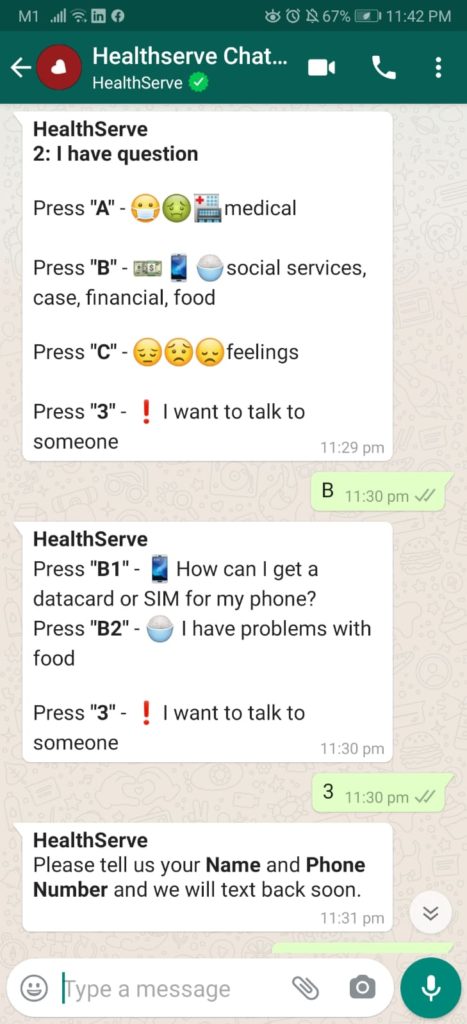 Design Challenge
#1: How might we keep our communities in Singapore safe and healthy during the global COVID-19 pandemic?


Project Description
Team Good Chat came together during the COVID-19 migrant worker crisis. We wondered how to better support this community in accessing accurate and timely information in a relatable and accessible form. In partnership with Healthserve, we created a chatbot that catered to their needs for assurance and 'triaged' them for follow up by caseworkers.
We hope to grow this effort further, to address a wider range of needs in this and other lower-literacy communities. Our goal is to explore how conversational tech tools can bridge the communications gap and keep workers safe and empowered.
Dr Goh Wei Leong, Healthserve founder and Singaporean of the Year 2017 is advising us in his personal capacity. We hope that DBC will provide us a way to seek the insights of the design business community.


Criteria #1: Value
Migrant workers lack access to basic facts we take for granted, from daily COVID-19 situation updates to medical, practical and emotional resources. They find existing public communications hard to relate to due to differences in language, culture, and day-to-day context (e.g. living in communal dorms).
Beyond information-related needs lie a deeper need to know that there is recourse available for their questions and anxieties. Our solution tries to answer these questions: How might we put the knowledge and access to help back into their hands? How might we assure them that they are safe and cared for in these times? How can we also provide support to caseworkers, who are dealing with high volumes, and find themselves repeating basic information using very manual processes?


Criteria #2: Inspiration
What kind of conversation design can cater best to the way our migrant brothers and sisters speak and communicate? In our initial use case in working with Healthserve, we've recognised the need to not only use a multilingual approach but to be aware of culturally-specific syntax even in English, for example the frequent use of the first person (e.g. 'I got question', 'I want talk to someone') and vocabulary (e.g. 'feelings', 'social service' ) that they understand and use. We introduced emoji to provide additional visual cues for the chatbot options, and we hope to further explore how audio, visuals and GIFs can enhance our conversations. This also helps us to triage more effectively across a range of needs (eg. health, legal, recreational, social) to offer targeted assistance at scale.


Criteria #3: Impact
Migrant workers' mental health is directly affected by their perception of the situation and how easy they are able to access the help they need. Data to date reflects the interest to engage: the Healthserve helpline chatbot that we designed has received >350 conversations over WhatsApp in the past week. We anticipate the volume of conversations to rise in the coming weeks, as awareness grows. On the sectoral front, conversational technologies help us to provide a timely and assuring flow of information to the workers, while retaining an interactive experience. At the backend, the platform helps NGO caseworkers to prioritise their use of time and triage cases more efficiently, with less repetition of information, and hopefully, more data aggregated over time.


Criteria #4: Timeliness
The Healthserve helpline chatbot Team Good Chat designed launched last week, and has received >350 conversations over WhatsApp to date. It amplifies HealthServe's other initiatives by 'triaging' and directing traffic to their website, caseworkers and virtual counselling service. We are gradually enhancing the chatbot features to include content in Bengali, Tamil and Mandarin, and due to launch a Facebook version as well. In the next 3-6 months, we foresee a need to adapt and evolve our conversational design further. We are keen to apply our insights to work with other NGOs serving migrant workers, as well as other lower-literacy communities. Looking beyond the COVID-19 period, the conversational tech tools that we design may have longevity in serving these communities over the longer term.


Criteria #5: Systems Thinking
Within the context of multiple channels of information and support provided to the migrant worker community (e.g publications like Bengali newspaper Bangla Kanthar, Healthserve's COVID website and video assets, medical translation sites like Translatefor.sg, and the critical work done by caseworkers and mental health practitioners), chatbots offer a data-light and agile platform that can pull together the existing resources available, and respond to changing needs on the ground. Changes can be made and updated overnight, queries addressed on a 24-hour basis, and redirected as necessary, providing greater digital responsiveness for this ecosystem. Team Good Chat is talking to other entities in the sector, to understand how we might build a more comprehensive ecosystem-based solution.