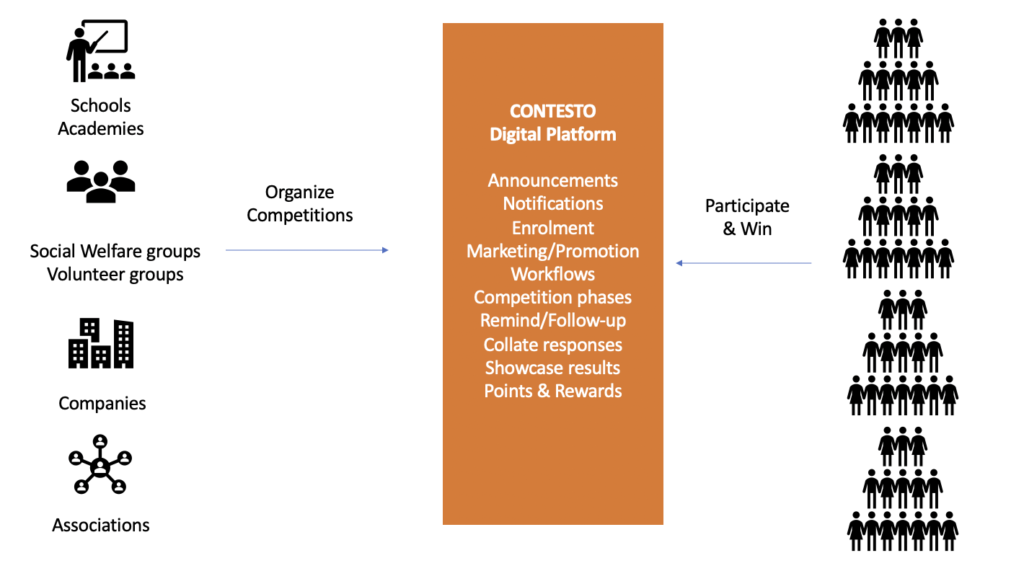 Design Challenge
#1: How might we keep our communities in Singapore safe and healthy during the global COVID-19 pandemic?


Project Description
Mental health is a vital part of our life, it is especially critical during a pandemic. Being homebound, our natural instinct is to engage in online activities for inspiration, solace, knowledge, communication and entertainment.
Our objective is to develop a one stop digital platform to help competition organisers create, launch and manage workflows and phases; market and promote; collect responses and showcase results.
Our target audience are schools, businesses, volunteer groups, social welfare organisations, charities and associations who conduct competitions and campaigns to engage their communities and the general public. Our main goal is to help them think "what to do", and remove their time and effort spent on figuring out "how to do".


Criteria #1: Value
We will work with our target audience to understand their needs and challenges. We will conduct user interviews and focus groups. Upon releasing the platform, we will gather user feedback and refine the system accordingly.
We will create an integrated design solution which can be implemented in phases to benefit the users quickly. They will be able to create the contests within our platform and start planning for the next contests, instead of spending time and resources on managing, promoting and organising them.


Criteria #2: Inspiration
To run a thoughtful, meaningful and successful competition, our target audience come up against challenges and quickly learn they need more preparation time. There is a substantial amount of backend work, marketing and management. As the time and effort for each of these tasks are quite high, there will be a limit on the number of such contests they can successfully organise and stand out from the crowd.


Criteria #3: Impact
Our users can directly go into the platform, and choose from ready-made templates and complementary workflows for competitions they are conducting. Our platform will also help them integrate their email lists and social media accounts to reach wider audiences quickly. The contest will launch and reach their viewers within minutes.

The platform removes time and effort spent by users on "how to conduct the competition". This will help them to focus on "what's the next competition". It will help users without much overhead of backend and admin work involved.


Criteria #4: Timeliness
Our team of developers and designers are able to create a prototype that can be used as an initial concept to gather effective feedback with our users. With funding, we will be able to develop a MVTP (Minimum Viable Trustable Product) to roll out different features to users and user groups bi-weekly and refine it further. In 3 months, we will be able to produce most of the features that can onboard more users and begin serving the wider audience.


Criteria #5: Systems Thinking
Our system will integrate and utilise current powerhouses who specialise in different aspects. For example, their current communication systems (e.g. MailChimp, Active Directory and Outlook) and social media (e.g. Facebook, Instagram, YouTube and Vimeo) for promoting and marketing the competitions to reach the general public.
Social media platforms can also be used for storing and showcasing their entries. Our platform will be a one stop for creating, conducting and managing a competition. In addition, it will integrate with different systems to leverage the familiarity and strength of other established systems that are used in Singapore.