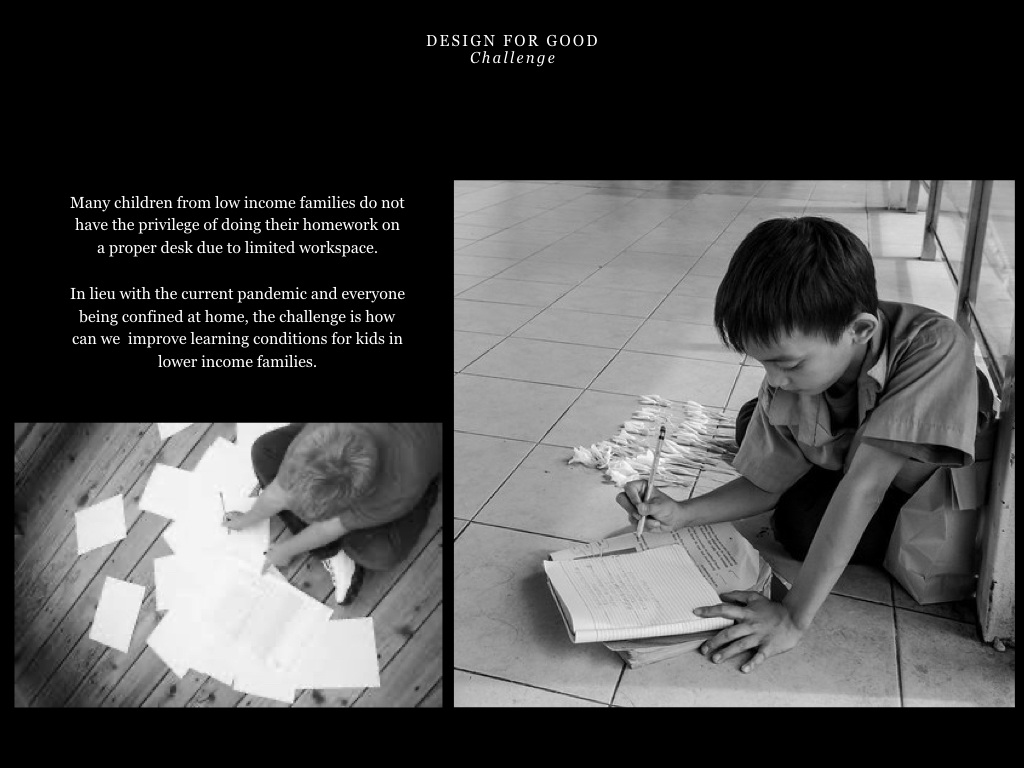 Design Challenge
#3: How might we learn from COVID-19 to reimagine our future for life, work, learning and play?


Project Description
Convertible desk/storage box targeted towards children in low income families.
The shape and size of the portable desk/storage box is made to accommodate enough space for children to do their homework / place a laptop, and made from lightweight reusable cardboard material. A child can easily assemble and fold it back into a box, making it easy for them to carry around, and just set the desk back up, and plop down on the floor or bed to do their work.


Criteria #1: Value
With children now having to be home schooled, a lot of lower income household might not have the means to provide proper table for children to do their school work.
This table is to cater for family who has very limited space at home to use. Children will be able to use this desk wherever they feel in the house, be it on the bed or when sitting down on a couch as it is convenient to set up.
The slant for the desk is to cater to better ergonomics for the child's posture. The extra compartment in the desk can be used to store some books and stationery.


Criteria #2: Inspiration
In recent news, it has been shared that lower income families live in more confined homes, and since the circuit breaker, all family members are confined to their perimeters of their own home. With limited space, children do not have a designated space for them to do their work; hence this idea of making a convertible desk came out.


Criteria #3: Impact
Creating a simple solution to allow children the potential of not neglecting their education, this convertible desk offers the child their own mini workstation. For them to be able to have their own space, with the change of their environment in our current situation.
To the child too, that will continue out of this pandemic. He or she might not recall the whole situation right now, but the things they learn on this desk will stick with them through their lives ahead.


Criteria #4: Timeliness
The idea will definitely be able to be launched in 3months, which includes the time for design, prototype, testing and production. The only material used will be the cardboard, that will be cut to the specification of the design.


Criteria #5: Systems Thinking
It helps with families from all home sizes, with especially restless young children. Looking after a child can be tiring and mentally exhausting during these unprecedented times, but if it is too stressful, something should definitely be done about it.
Regardless of a pandemic, it is important for everyone to be healthy mentally, and we want to help with that. We all should emerge from this whole experience a healthier and happier version of ourselves mentally especially.