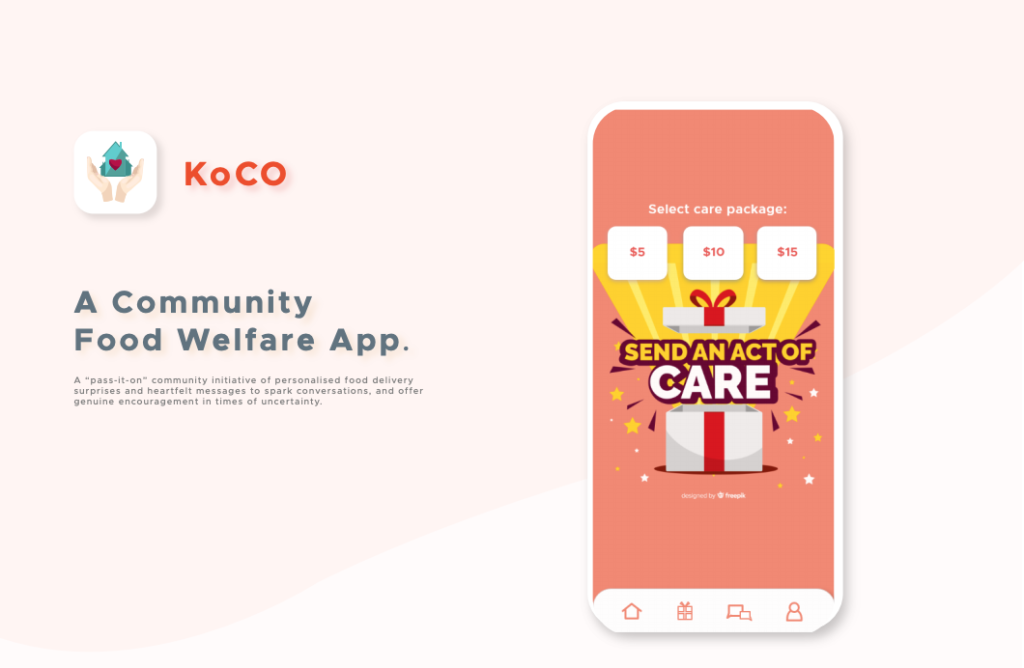 Design Challenge
#2: How might we encourage our community to support one another and look out for those who are socially isolated?


Project Description
In light of the COVID-1 situation,, many community initiatives such as #SGPaySitForward, #SupportLocal, ChopeAndSave etc have been implemented, to support vulnerable groups and affected local businesses.With social isolation being implemented and a lack of access to our favourite food and cravings, many millenials have resorted to ordering food delivery for their friends and loved ones, and the simple surprise treat of food delivery welfare is a simple yet genuine way to show care and concern without physical contact. Beyond our social circle and loved ones, why not extend this kampong spirit to the whole community in a new "pass-it-on" initiative? For the elderly and vulnerable groups, a surprise food delivery from a stranger, alongside a heartfelt message in sparking conversations within.


Criteria #1: Value
In times of crisis, community spirit is critical, and social isolation can be tough, with the tendency to feel isolated and distanced from the world. Beyond a social aspect, local businesses can collaborate in this initiative, where they will be listed in the vendors for delivery options, offering an additional sales channel for them, as well as #supportlocal, for a good cause.


Criteria #2: Inspiration
On social media , it is common to see users posting igstories about the welfare their friends have sent them, such as a surprise bubbletea grabfood order that they had been craving that really made their day, and it is the easiest way to show concern for our friends in the midst of social isolation. Currently, we only reach out to people we know, and not everyone (especially the elderly, vulnerable groups, or individuals) may be blessed with such acts of kindness. Instead of purely charitable acts of donations to vulnerable groups, why not a more inclusive community initiative, where everyone can participate, to garner stronger community networks?


Criteria #3: Impact
Beyond food welfare deliveries, this "passiton initiative" is versatile, and can be extended to personalised care packages and items as well. This initiative aims to reach out to vulnerable groups and isolated individuals, offering a touch of warmth and sparking conversations and appreciation within strangers.


Criteria #4: Timeliness
This initiative will be largely app based, and a 3-6 months timeline is feasible for app development, system creation, prototyping and testing. Food delivery services will still continue to be outsourced to third party apps, such as grab, hence the development however to ensure minimal delivery costs the app system algorithm will do a proximity match to users.


Criteria #5: Systems Thinking
Beyond a social community initiative, affected local businesses can be onboarded to register themselves on the app, as a vendor for food purchases to be made from – offering an additional sales income, as well as publicity in an app curated specially for the community, and a support local initiative. The matching process on the app will also be based on proximity regions and distance limit to minimise delivery and manpower costs, and the "pass-it-on" food welfare system comes with selected budget price point options. (etc capped at $5, $10) to cater to differing budgets. Karma points will also be earned from the initiative.