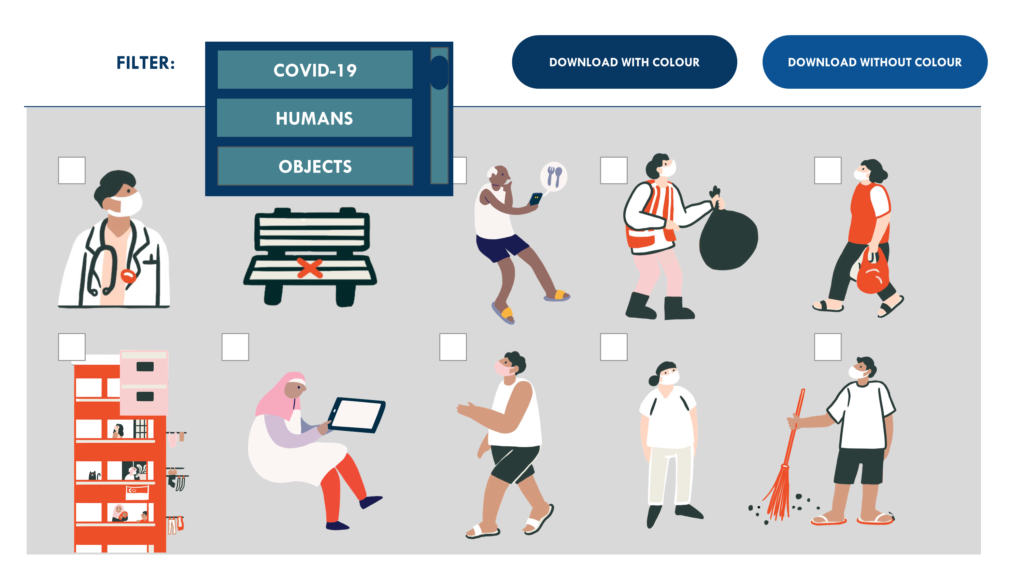 Design Challenge
#1: How might we keep our communities in Singapore safe and healthy during the global COVID-19 pandemic?


Project Description
With organisations working hard to relieve COVID-19 stressors, we recognise the need for easy infographics generation to convey important information. We propose creating a free library of locally-themed illustrations downloadable by anyone to create do-it-yourself infographics, or even other materials like teaching resources or e-cards. The library can be continually updated with requests or illustrations mirroring new issues.
If a fair model is possible, the library can also be an open, curated platform for local illustrators to upload their creations for public, free usage.
With more budget, a simple in-window design tool allowing effortless creations (drag-and-drop illustrations and visual elements, add texts, export and share) can potentially be developed.
Criteria #1: Value
The efforts of organisations providing resources and reaching out to communities, especially the vulnerable and marginalised ones, are crucial. By putting a free and ever-expanding library of illustrations into their hands, anyone can create do-it-yourself infographics at speed to convey urgent information without needing to wait for a third party's turnaround time. Illustrations can break up texts and add visual contexts to aid effective information transmission. With an inclusive range of illustrations featuring local profiles and familiar contexts in the library, the infographics can create more resonance with the target audience.


Criteria #2: Inspiration
While stock illustrations and images are widely available online, Singapore-themed illustration packs can help make infographics less generic and therefore, more engaging and meaningful to audiences living in Singapore. The images can be downloaded as line art as well, allowing more freedom with colours (e.g. users can play with their own colour palettes/ create colouring sheets). Elements can be isolated to allow greater creative freedom and customisation (e.g. users can mix and match body parts to create characters representing their target audience). Templates such as infographic guides can also be made available to aid content creation.


Criteria #3: Impact
As a local illustration studio invested in the library, we can continually update the library with illustrations reflecting new issues, thus helping users create current and relevant infographics and materials. Organisations can also reach out to us easily to suggest other illustrations we can add, and thus the library can be a co-creation with organisations that are on-the-ground, making it a tool highly adaptable to their needs.
If the library can be turned into a fair, open, curated platform for local creators to upload relevant content, the library can be ever-expanding, allowing limitless creations for both organisations and individuals.


Criteria #4: Timeliness
As illustrators who work frequently at live events and trained to generate graphics at speed, we can create a basic library that can be launched within 2 weeks. Over the course of a few months, we can update the library with more customization options and illustrations related to a range of themes such as mental wellness and inclusivity.


Criteria #5: Systems Thinking
Recognising the power of infographics, especially on visuals-driven social media platforms, governmental and non-governmental organisations are already using infographics to share information. By building a free library of illustrations that anyone can use, we can contribute to the faster creation of emotionally engaging and visually striking illustrated infographics. Users can simply download the packs and create their own infographics with existing softwares such as PowerPoint and Photoshop, and share them via online or offline means. By assisting organisations in this aspect, we can contribute to facilitating the effective flow of important information and resources to various organisations' target audience.