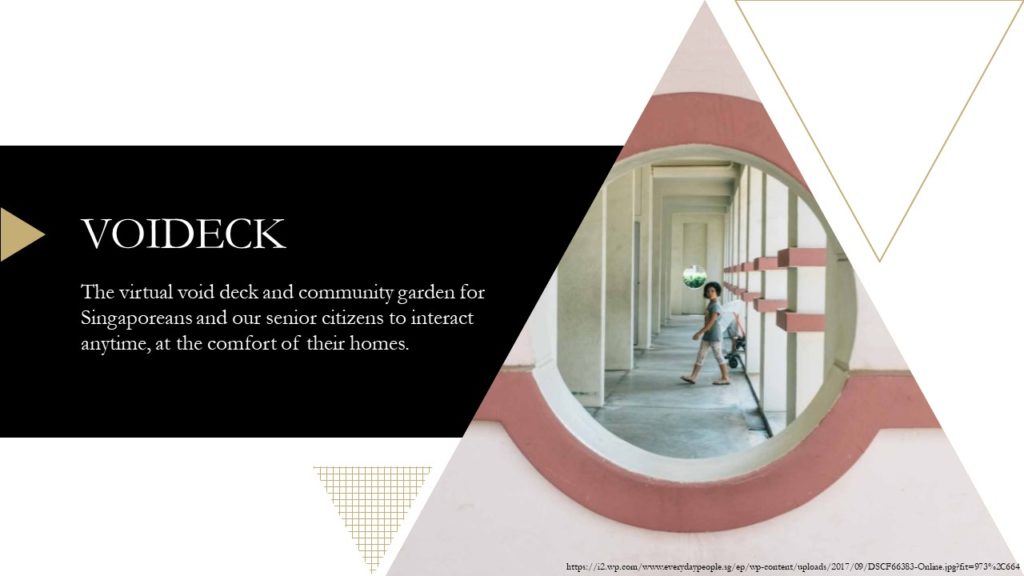 Design Challenge
#2: How might we encourage our community to support one another and look out for those who are socially isolated?


Project Description
Voideck is a community game, with our familiar sights and sounds, to socialize. Usually, seniors are seen spending their time throughout the HDB grounds, playing games, Physical socialization is limited for so many people during this tough period. There's that lack of recognition with the familiar activities, sights and relationships during this period.
Voideck aims to connect seniors who are having difficulty continuing their usual activities during this period. Through familiar games, a location-based socialization zone, and notices, Voideck will provide a sense of familiarity to the seniors, and bring the community together.
Activities include virtual reality experiences, movement games, board games, and old games. The variety will allow seniors to participate with their friends.


Criteria #1: Value
Elderly are not able to engage in activities as before during this period. Voideck will be able to foster social connection through nostalgic games from the past and commonly played games in our HDB heartlands. The elderly will thus not be left out as before. In addition, the app will also spread as an easy way to communicate information regarding COVID-19 to elderly in a timely manner. This has never been achieved before in any other app.


Criteria #2: Inspiration
It has been mentioned that many elderly have been isolated from activities in Singapore. With a suspension of usual activities at social centres, many elderly have been left uncared for at home. Though organizations are stepping up their game, not all elderly can be reached. This app will ensure that no one will be left out in this community to continue on their previous activities, allowing for support throughout this period.


Criteria #3: Impact
Senior citizens can be looked after, and this creates a sense of community that will last for isolated members. Personalization, care and simplicity for senior citizens are available in this unique app. They can also take this opportunity to learn more about technology. Simple as that.


Criteria #4: Timeliness
Apps are easier to release compared to physical items. The development of the technology can be done online. Voideck includes components of games and social apps that are already available easily for app development, so it can be expected that the app is developed in 3-4 months.


Criteria #5: Systems Thinking
So many functions of games, chats and community apps are available, but almost none are for elderly. Most elderly have been exposed to technology. An easy interface will be developed, with simple but interactive nostalgic games, and socialization features. With further support from NGOs, we hope to spread the message to download this simple app for socialization and a sense of community.