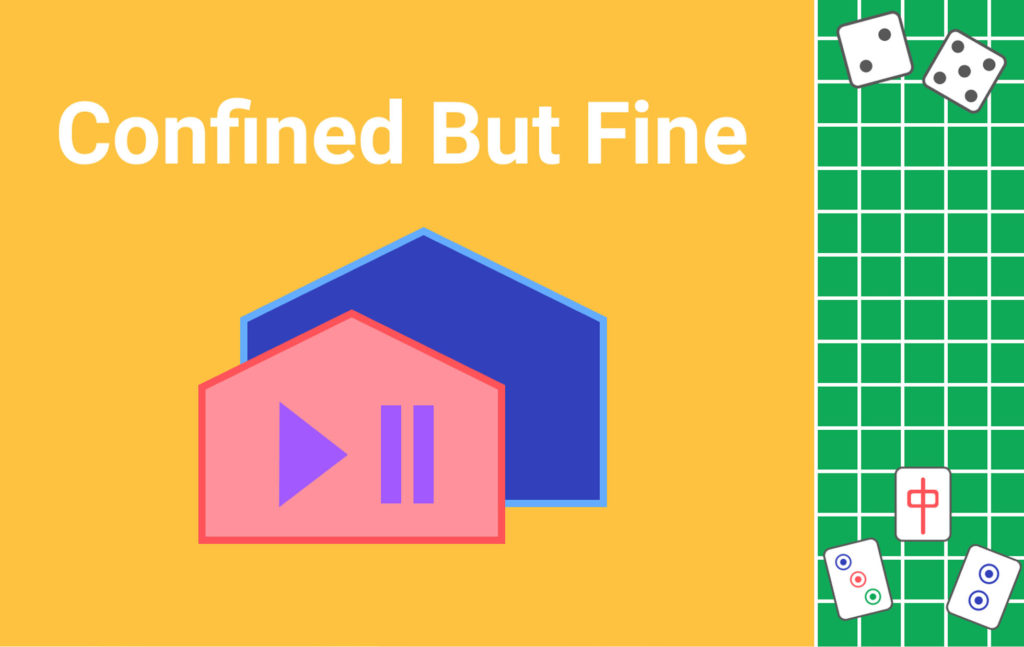 Design Challenge
#3: How might we learn from COVID-19 to reimagine our future for life, work, learning and play?


Project Description
Confined But Fine is a proposed web based platform that imagines the future of fun in a Post-Covid society.
It is a light-hearted response to the new climate of uncertainty, social isolation and fluid event planning. The platform allows users to host public and private game parties; serving as an event contingency plan whenever intermittent country-wide circuit breakers are re-introduced, or guests are served with a stay-home notice.
This project proposes a blueprint for event companies to recover from the impact of the coronavirus. The solution incorporates a social element of engaging socially isolated communities such as the elderly or the quarantined.


Criteria #1: Value
1. Recovery of profit – Through in-app purchases (e.g. enterprise plans, expansion packs) Event companies have a new way of earning profit through a hybrid event experience.
2. Ad-hoc Job creation – For new games or templates to be onboarded, a creative team needs to integrate crowd-sourced solutions on to the platform. Creative freelancers have the opportunity to optimise gameplay or assets for the platform.
3. Far Reaching – The platform revolutionises the way we reach out to vulnerable groups of people. Post-Covid, volunteering in places like nursing homes could be more controlled. This could be an alternative for physical companionship.


Criteria #2: Inspiration
Activities can be sorted by occasion or audience size, and can be scaled to reach critical mass even beyond lockdown. The channel can be employed for personal or public use. Some examples:
Enterprise Plan – Icebreakers for new joiners in a company, company lucky draws, celebrity hosted bingo for old folks' home.
Educational Plan – Class pop quiz, wheel of names show & tell
Personal Plan – Gatecrashing pack, Childrens' pin the tail on the donkey, Classic charades.
It prepares Singapore for a new normal, where events (both international and local) can run despite audiences attending remotely, or when unexpected measures are enforced.


Criteria #3: Impact
This solution helps alleviate problems for plans affected by the fluid situation.
Today, teachers have to quickly find ways to engage their students during Home-based learning; universities have to think of alternatives for graduation ceremonies; caregivers are bogged down by higher volumes of patients; wedding couples have additional contingencies to plan. Confined But Fine hopes to remedy the mental toll on such parties, by providing virtually packaged fun that can be tailored for each occasion and audience. Event companies can host more elaborate events by offering services like "employ a host" to run larger scale events remotely.


Criteria #4: Timeliness
The MVP of the platform can first launch a free version of basic games to attract critical mass. As time goes by, more games, features and expansion packs can be added on to the platform. Later on, customisation and enterprise solutions can be configured, and a robust open-source platform can be generated.


Criteria #5: Systems Thinking
The platform can be endorsed by various fundraising efforts (giving.sg or GiveAsia) to support local Covid relief. Fundraising parties (name idea: The Fine Fund) with celebrity hosts can be live-streamed (like those good old President Star Charity screenings). Various stakeholders such as educators, event planners, parents, social services can share successful engagement activities when the crowd-sourcing feature is robust enough.